Blog
Partner Spotlight: DBD Randomizer
Each month we shout about one of our awesome partners. For July, we chatted with our partner DBD Randomizer about their Dead By Daylight tools and challenges.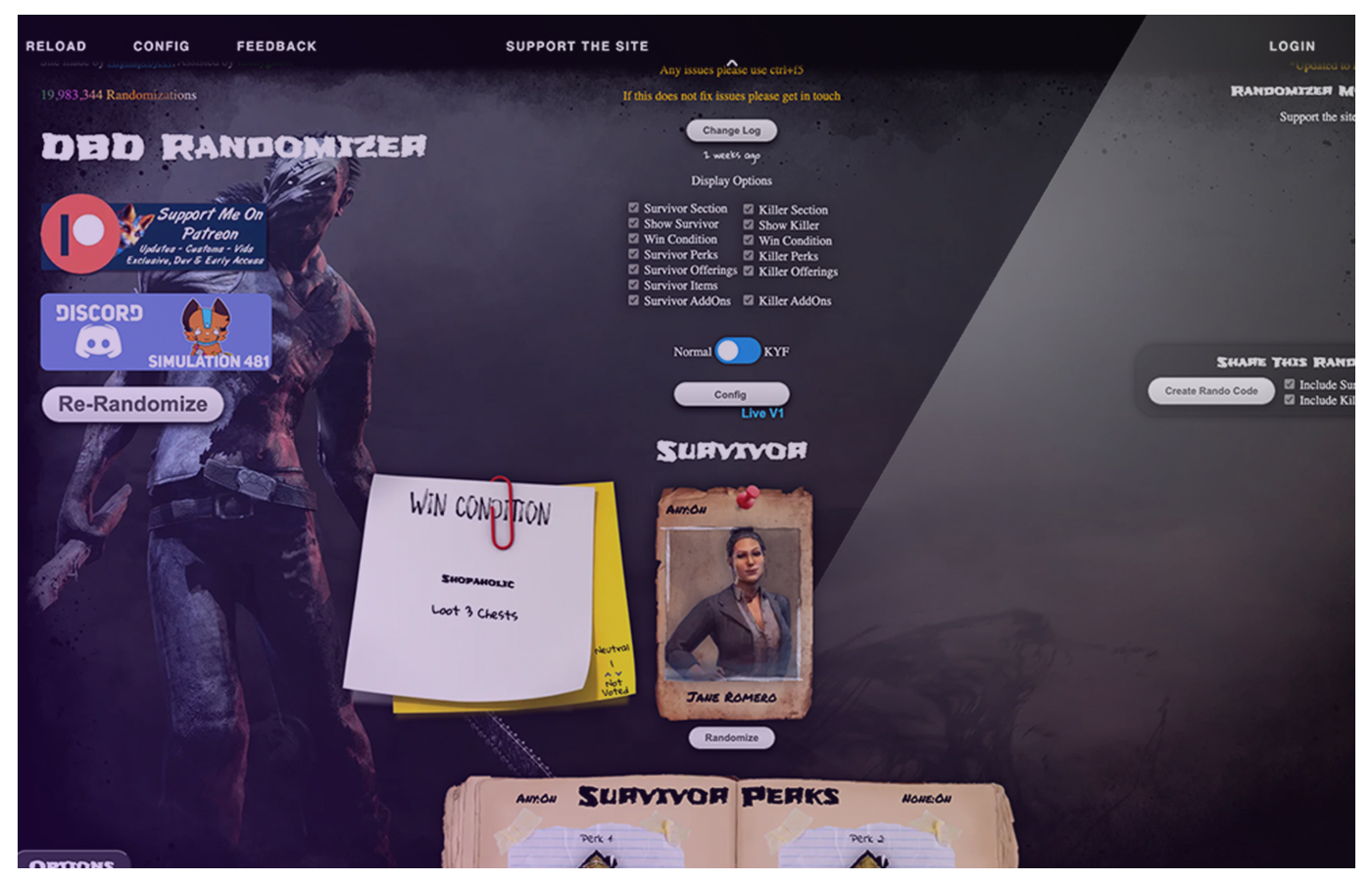 Dead by Daylight (DBD) is the first port of call for horror fans looking for instant action gameplay. It boasts truly terrifying maps and sometimes wacky, often weird characters – Nicolas Cage, for one. With player perks, hidden secrets, and endless strategies to employ, the game boasts a devout fan following and has spawned innumerable fan sites.
One of our favorites is DBD Randomizer. Master DBD players who are looking for new challenges and gameplay rules can use DBD Randomizer to create engaging game mechanics and caveats to bring new life to the multiplayer murder game. We talked to the site owner about their growth.
What drove you to create DBD Randomizer?
I'd started to get bored with the rinse and repeat of [Dead by Daylight] and the lack of fun challenges, my friends and I started making up our own roles and challenges. I already had a background in web development as I was studying it in college, and chose to use one of my servers to create and host a website where it could give out challenges such as win conditions and randomized loadouts for us to use. I decided to make it public when I couldn't find a website with this function. So I created it myself and it has been getting upgrades and changes ever since.
How has your audience impacted your experience as a site owner and gamer?
I'm still getting used to the fact that others actually use the website. It brings me a lot of happiness to see messages from people that enjoy it. I love getting feature suggestions and comments on the site.
Just recently someone came up with an idea that I can't believe I didn't think of before. Right away, I went and added it to my to-do list. This interaction is one of the reasons I added the comments system – so that I could get a direct connection with the people who use the website, and hopefully make them feel more connected to the progress and development.
On the more technical side, I have had to learn a few new techniques and technologies for various features and I also had to move servers a few times in order to accommodate the ever-increasing user load.
What's one of your favorite aspects of managing your website?
I really love to create and work on problems that come with creating, maintaining, and improving the DBD Randomizer. For instance, I recently updated the site with a huge overhaul. One of the new features was the addition of history, which needed a few changes all over the site, allowing each randomization. We also added Config – a feature that allows users to select what characters they have unlocked in their personal account in Dead by Daylight, and ThisRando – a feature to share loadout results.
These will be saved into the database and viewed in the user's account at a later date. Users can even load past Configs and ThisRandos, as well as delete the ones that are no longer of interest to them. It took a lot of work and needed a lot of re-design to existing systems but it was all amazing to work on and it makes the quality of the website that much better for users.
What are you most proud of on your site?
Recently, the website growth has been something amazing to see. About three years ago the website had around 200,000 randomizations (a stat that gives rough guidance as to how much the website is used) and since then, the website passed a huge milestone of 20 million randomizations.
Another thing I am really happy about is managing to push live the latest huge overhaul update, which changes quite a lot. The changes include an updated design and the addition of new features, such as randomization history, bringing the Config System out of Beta (as well as updating it to work with both Kill Your Friends and normal modes), saving Configs and ThisRandos, and more!
Do you have any advice for website owners who are just starting out?
Starting out is the most difficult and fun aspect in my opinion. Creating a website can be a hit or a miss. Or it could even be a miss for a long time and suddenly gain traction, you just never know.
One thing I can say for certain is – just start! Get that idea you have in your mind out of your head and onto the computer, or on a piece of paper first, if that helps. Start somewhere and learn as you go. You can always improve and change things later. Don't be afraid to ask for help either – it's not a weakness. It's knowing your strengths and weaknesses, which is a good thing to be aware of.
Creating a website is going to be hard work but it will be rewarding even if it isn't a hit right away, or ever. You will still gain very valuable knowledge and experience, and who knows who will see your creation and get inspired by it?
If you're an existing partner who'd like to be featured in our Partner Spotlight, you can reach out to your Publisher Collective contact and express your interest. Want to get in on the action? Apply to become a partner here.