Blog
Partner Spotlight: Gaming Tier List
Each month we shout about one of our incredible partners. For October, we chatted with Gaming Tier List about their reviewing and ranking process.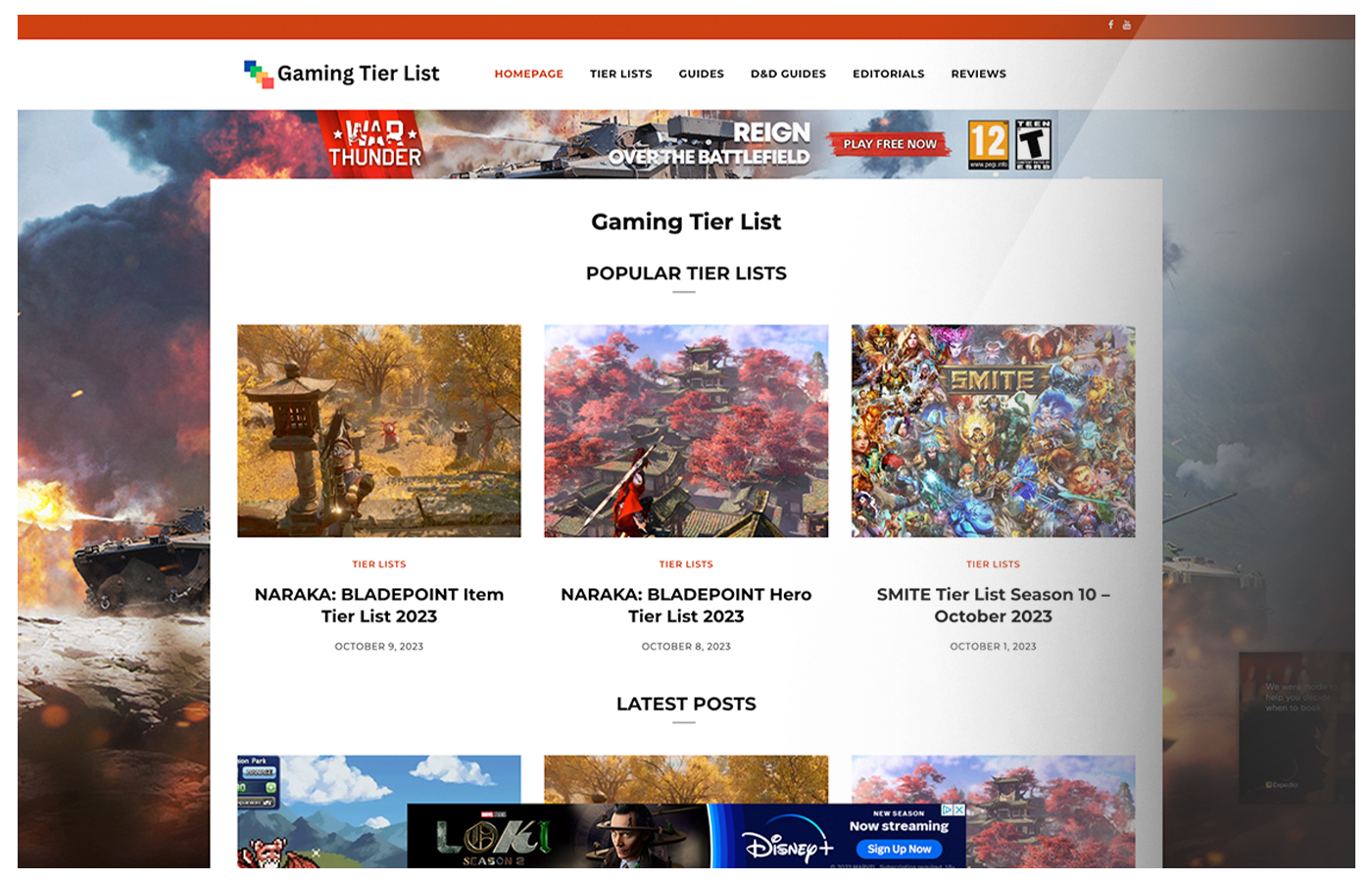 Finding a balance between creating what your audience wants, and creating what you're passionate about can be a struggle for site owners. Gaming Tier List is built by dedicated gamers and spearheaded by David Piner, a publisher whose expertise on audience expectations has fueled the success of his site.
What drove you to create your website?
"Our site originated out of the frustration of [not being able to] find content that's helpful, especially around tier lists and reviews. When I'm searching for a guide, I'm searching for an answer and I want to [find it] as fast as possible so that I'm back into the game.
"This is best represented in our approach to reviews . . . We don't align our reviews to a scoring system, instead focusing on presenting at the start if we think the game is worthwhile to purchase, and then spending the rest of the review presenting our thoughts on why we've come to that decision. The reader gets a clearer idea of if the game is good, comparable games and if they're interested, an optional deeper dive into the game.
"Intentional, truthful and thoughtful content that's designed for the reader is our north star and the genesis of our site. We place a heavy emphasis on diversity, inclusion and creating positive and encouraging content that doesn't dwell on the negative moments but instead focuses on the uplifting positive emotions that drive our joy in gaming."
How has your audience impacted your experience as a site owner/gamer?
"Our audience has really driven the point home that satisfying content develops a positive reputation for your site … because they know the content you produce will satisfy their search intent. They've also delighted us with so much enthusiastic support, from ideas for new content they'd love to see to just positive messages of support or direct feedback on our content.
"It's so important to think of the audience who reads your content when developing it. They're the ones who consume your content and it has to satisfy them. Staying in touch with and being in contact with your direct audience is one of the easiest ways to measure your success, as long as you develop healthy boundaries to keep the audience from controlling your business."
What's one of your favorite aspects of managing your website?
"My favorite aspect of my website is managing the community. Having had two decades of community management experience, it's very comforting to continue to have a community online to nurture and grow around my own brand.
"I personally also find the technology of running a higher traffic site online to be a lot of fun to maintain. Managing the backend and ensuring the site loads as quickly as possible is a never-ending goal as new technology releases … almost every quarter."
What are you most proud of in regards to your website?
"We're absolutely most proud of our SMITE Tier List. Our SMITE Tier List uses a combination of real match statistics (which gods are winning the most matches), professional feedback and community feedback. We've architected a backend that allows multiple contributors to update the rankings as necessary. Being so close to Hi-Rez, it makes access to game SMEs much easier. [With all this], we've built what I consider to be one of the best tier lists online.
"It's a great example of us taking iterative feedback as the tier list has evolved over the years to meet the current SMITE meta and delivering exactly what readers wanted. After getting all the content written out and into the system, everything has worked like magic and users who want to try a new guide now have a quick and easy way to dive deeper and get some general build advice."
Do you have any advice for website owners who are just starting out?
"If you're not part of the audience of your site, then you should work on [getting to know] your audience. Not from a mechanical, analytical view but a holistic one: who are they and what do they want. You can speedrun a lot of the early growing pains by networking with your audience and developing content that's relevant to them, sharable and discoverable.
"Don't get discouraged by downturns or setbacks. You'll change something for the better, make your site faster or update the content and you'll see a major drawback in traffic. That's nothing to panic about and absolutely normal. Focus on keeping your site online, following the best practices Publisher Collective has shared on SEO and producing high quality content that an audience out there wants to consume. Keep working at it and keep developing content."
For more information about all of the incredible partners we work with, check them out here, and if you're an existing partner who'd like to be featured in our Partner Spotlight, you can reach out to your Publisher Collective contact and express your interest. Want to get in on the action? Apply to become a partner here.