Blog
Partner Spotlight: Starfield Db
Each month we shout about one of our incredible partners. For September, we sat down with Starfield Db to see how they're celebrating launch week.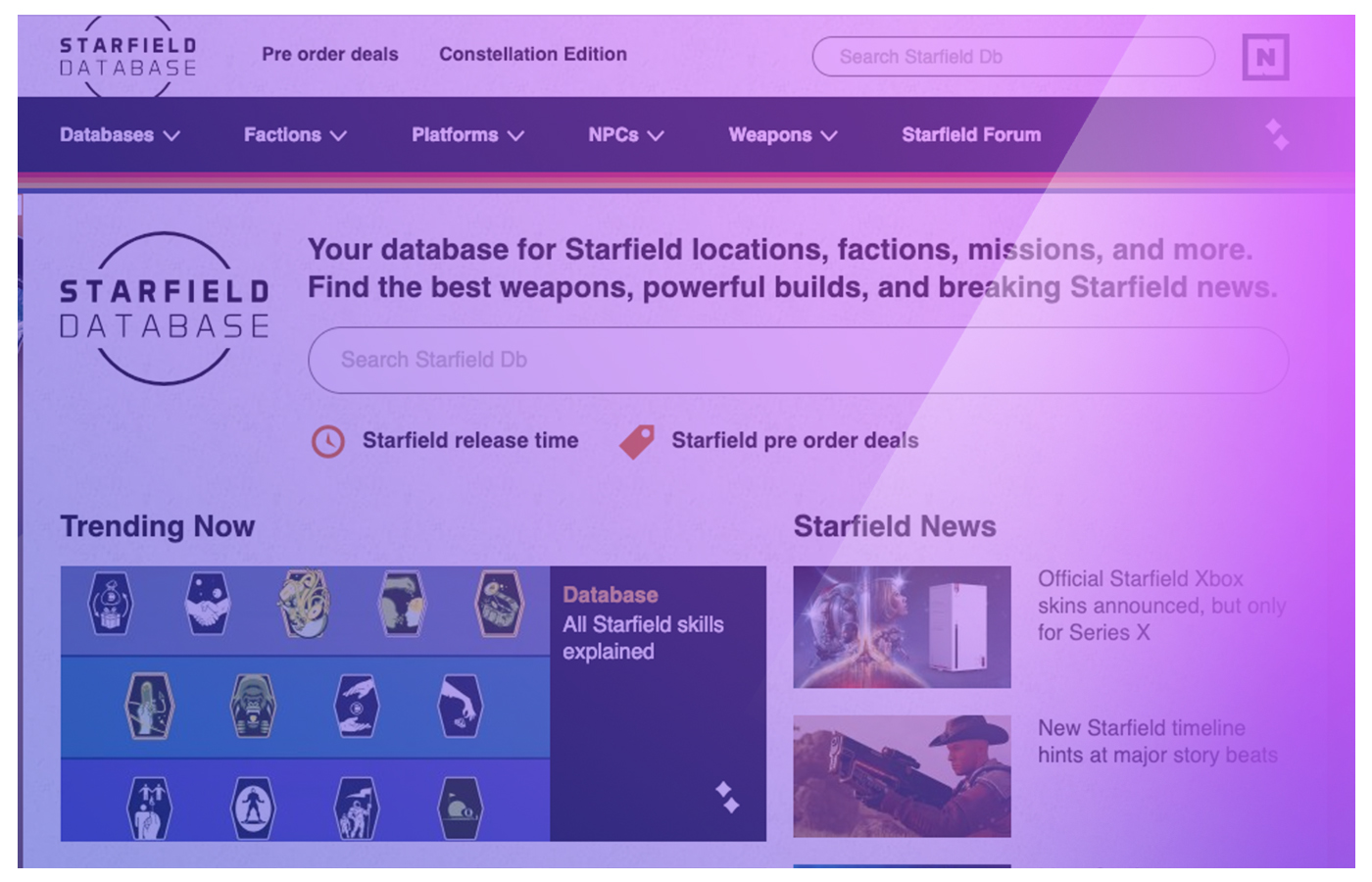 Bethesda's new interstellar adventure Starfield has just been released to the masses, and the hype is astronomical. With Starfield set to be another of Bethesda's immersive and complex time-sinks, players will be looking to gaming sites to guide their quests through the stars. Starfield Db is a galactic handbook for gamers as they traverse the many planets and galaxies of Bethesda's epic universe.
When did you decide to put together Starfield Db?
"Starfield Db has been online since 2021, so it's fair to say that we've been eagerly anticipating the game for quite some time now. As for the 'why' part, it's because we love Bethesda's games and the communities that play them, so we wanted to build something that makes Starfield even better for the people who love it."
What sets Starfield Db apart from competitors?
"One major differentiator for Starfield Db is that it's powered by databases, rather than pages of static content. Planning and implementing those databases was a lot of work, but it means that we can create rich pages of filterable, searchable content for Starfield players. It's perfect if you're looking for the most powerful weapon, hunting for a specific NPC, or just trying to make sense of Starfield's universe of 1,000-plus planets.
"That approach also means that we can take all that data and use it to make powerful tools. Are you struggling to find an elusive crafting component? Starfield Db can tell you every location it can be gathered from. Wondering which weapon mods you should equip in order to optimize your favorite weapon? We can crunch the numbers and generate your answer at the press of a button. As time goes by, we'll be building even more of these tools. I'm super excited to see what comes next."
What do you hope users will take away from the site?
"Our overarching aim is for the site to support Starfield players for years to come. So, if you're passionate about Starfield, we're here to make your time with the game better. And if you have suggestions for what we should add to the site next, head on over to our Starfield Forums to tell us."
Any big plans for the game launch?
"Yes! We're pulling out all the stops to ensure that the site is home to the most comprehensive collection of Starfield data anywhere on the internet, and we want it all to be ready and waiting for players as soon as they get their hands on the game. So, whether you're looking for the best weapons, mission walkthroughs, crafting recipes, or interactive maps of key locations, you can bet that Starfield Db will be the best place to find it.
"All that means that we're going to be pretty bloody busy during the game's launch window. After that, I plan to lie down for 10 days straight."
Do you have any advice for website owners who are just starting out or thinking of getting into web development?
"Speaking as someone with very limited knowledge of web development, my advice would be to surround yourself with much more talented people than yourself. Working with Network N Media's developers to turn my half-baked back-of-a-napkin ideas into features, tools, and functionality has been one of the biggest pleasures of the project for me, and I've been really lucky to benefit from their separate and collective wisdom."
For those that don't know, our sister company Network N Media owns and operates some brilliantly nerdy sites that cover the games and entertainment market. Some of those sites include PCGamesN, The Digital Fix, The Loadout and Wargamer, so adding Starfield Db into the mix is an awesome fit.
For more information about all of the incredible partners we work with, check them out here, and if you're an existing partner who'd like to be featured in our Partner Spotlight, you can reach out to your Publisher Collective contact and express your interest. Want to get in on the action? Apply to become a partner here.